In Fig.8 a rotor (41) is shown, its boundary being made up out of (infinitesimal) sections of ellipses (x*x/t*t +y*y/s*s = 1, with t*t+s*s=R*R, on which a inscribed rectangle (46) can be defined, such that (a,b), (-a,b), (a,-b) and (-a,-b), lie on the boundary, with a+b=R, with R the distance between center points of rotor and pivoting body.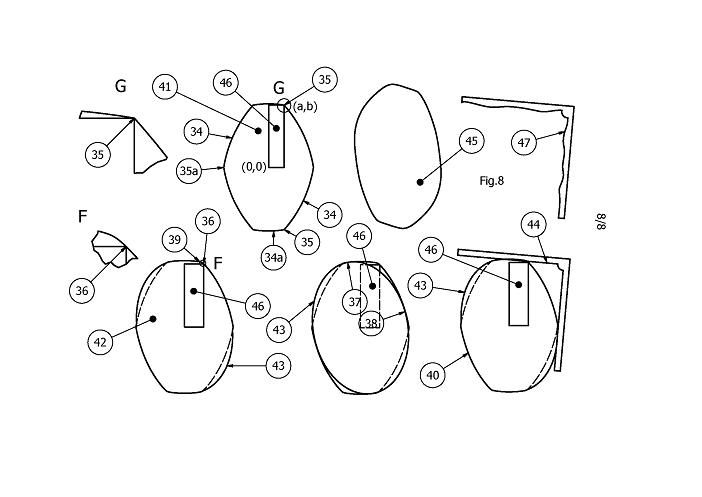 The boundary curve of the rotor has a continuous mapping of a normal vector n, (–pi< angle(n) <= pi) to the angle of, the origin based, vector m of a boundary point (–pi< angle(m) <= pi), where the mapping can be bijective (one-to-one) as on point (36) of rotor (42), or surjective (one-or-more-to-one) as on point (35) and (35a) of rotor (41). In either case the boundary  can be cut up into connected smooth sections (34) and (34a), and the direction of rotation of the normal vector n follows the direction of rotation of m on the boundary curve.  In effect, the straightedge is the operator, mapping one section (34) on the next section (34a), and this section (34a) on the next (34), continuing back to the first section. This means shapes will be point symmetric (45) and for any given phi, a part of a boundary curve with m defined for phi<angle(m)<=phi+pi/2 defines the whole boundary curve.
Shown further is an ellipse (43), which could be defined for any point of the boundary curve, by the point and its normal vector (37) and a perpendicular normal vector (38) at another point on the boundary.  This meaning a straightedge (44) would contact these points precisely. Within some mathematically definable boundaries, tolerances and some curvature can be allowed on the straightedge (47), which will slightly differently map one point on the boundary, to another point on the boundary.  A remaining property is that, on each arm of the straightedge, a plane through the pivoting axis and any contact point at distance sqrt(2)*a will go through any contact point at sqrt(2)*b, and the planes of the two arms are perpendicular.  Even though approximate, the rotor will now not be made up out of (infinitesimal) ellipses as describe above, but will be close.